Fujian Mount Wuyi Earth Building Xiamen Quanzhou Private Tour
Welcome to |Wuyishan tour | |xiaman tour |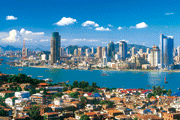 Fujian The character "Fu" in "Fujian" means "Good Fortune" in Chinese, and this province is surely worthy of the name. Not only is the land here endowed with a subtropical climate, that gives it temperate winters and comfortable summers, but it is also dominated by a natural and often rugged beauty, and is a focal point for many interesting periods of China's history.
Xiamen is one of China's most attractive cities. Situated at the coast of the Fujian Strait this wonderful city with its palm trees, vast beaches and historical architecture attracts many foreigners.Mount Wuyi, in the northeast of Fujian, is listed as World Cultural and Natural Heritage Site.The Earth Towers of the Hakkas enjoys a history of about 1,000 years. In order to prevent them from dangers, the Hakkas used fire-resistive local materials to build high, multi-stories earthen houses where a clan or a whole family can live in. These houses impress people in their shapes of square, round, rectangular and semi-circular Quanzhou As one of the historic cities of China, Quanzhou boasts many ancient cultural and religion relics. It is also blessed with beautiful scenic spots because of its special geographic location
N Reasons to Visit Fujian
Xiamen is one of China's most with distinct oriental culture and southern Fujian features Especially the beaches and the beautiful seashore seem attractive cities has fresh air, because it has warm sunshine, because it has romantic beaches vast beaches and historical architecture -----

Gulangyu Island famed for its exquisite natural beauty, also called "the Garden on the Sea" by people in Xiamen, is a world of sea breezes, sunshine and exotic architecture with a Mediterranean flavor.

Nanputuo Temple, among the four well-known Buddhist shrines in the nation, has the longest and most prestigious history.

enjoy the natural beauty of Mount Wuyi, the world Natural and Cultural Heritage Site;listed as World Cultural and Natural Heritage Site Thick primitive forest, clear water, danxia landform, deep gorges, unique peaks and strange rocks add more charm to this famous mountain

The serene beauty of the dramatic gorges of the Nine Bend River A cruise along Nine Bend Creek on a bamboo raft is one of the most enjoyable ways to see the sights of wuyi Mountain.appreciating the mountains in the distance Floating on a bamboo raft along the stream, appreciate the towering mountains and lower it to listen to the flowing water, and touch it with your hands.the Nine Twists River with a length of 9 kilometers to enjoy the enchanting sight of exotic peaks and historical sites and relics along the bank while listening to the rafters of their beautiful legends and songs

was constructed over 1,200 years ago and is regarded as a "living fossil" of the construction style of central China The earthen buildings of Hakkas are considered a wonder of oriental architecture-- Fujian Earth Building (Tulou)

the house (Tulou) designs are unique, including the Zhenchenglou,(a magnificent building combining the Chinese style with the western style), Fuyulu (Five--Phoenix House¡ ) Kuijulou (a palace style building), and Rushenglou (a mini-sized circular building).

Quanzhou, once a great port city on the maritime silk road,Fabled Quanzhou-- the Great Melting Pot

Oolong tea produced in Fujian is famous, a chance to visit this province, you must taste it there with relish.

Contact us Now to open your amazing experience in China.
As one of the key enterprises on travel service in Xian and China, we have been, over the years offering the tailor-made package tours and custom tours for individuals, families and groups. Meanwhile, we also provide discount hotel reservation as well as the flight and train tickets booking in Xian and China.
Sidebar:
All the prearranged Single-city Day Tours and Multi-cities tour packages above are private tours.
While taking our private tours, you, your friends or your family enjoy the exclusive use of a car or van with a personal local tour guide usually from 9:00am to 6:00pm for the tour you have booked. Our tour guide will meet you at the airport, the railway station or your hotel. We include the major attractions in our prearranged itinerary. If you have any special request in terms of the attractions, please tell us, we are able to have a tailor-made tour for you.
The hotel accommodation:
We have chosen for you the carefully recommended hotels in each itinerary which are classified into three categories: Deluxe ( 5 star otel ), Standard ( 4 star hotel ) and Budget ( 3 star hotel ). If you prefer a specific hotel, or you would like to reserve the hotels by yourself, please tell us in advance, we can customize the tour per your request. We do offer some tour packages without hotel bookings.
Meals on your trip:
Your breakfast is usually included in your hotel. So you will have daily breakfast at the hotel. We usually include all the lunches on your whole trip as mentioned in your itinerary. We offer Chinese lunches in most cases. Usually the tourist meals have a bad name. But we try our best to improve the quality of the lunch on the tour. All the lunches are not refundable. We often skip the dinners for you to have more flexibility. Most of the hotels offer very good buffet dinner or Chinese dinner. Or you may choose to have supper at the restaurants near the hotels. But sometimes we do offer dinner when you have booked our prearranged evening shows, like Peking Opera, Acrobatics, Kung Fu Show.
Local tour guide in China:
We can arrange different language speaking tour guide, such as English, French, Russian, German, Japan, Italy and so on. All of them graduated from college and have passed the touth national examination to be licensed as a guide.
How about the vehicle?
We use the air-conditioned and well-shaped vehicles. All the vehicles are licensed with insurance. All vehicles are equipped with air-conditioning; Can carry standard luggage; Are always clean,tidy and odour-and damage-free; Are not refuelled during the transfer; Are parked within a distance of not more than 100 metres from the collection point.
1-2 traveling Party: we offer cars
3-8 traveling Party: we offer vans
8-10 travelling Party; we offer coach
How about the driver?
All the drivers have the official licenses with at least over 3 years' driving experience. All drivers select the most dynamic route, observe local traffic regulations; Are properly dressed; Are familiar with the region; Refrain from smoking,eating and drinking in the passengers presence.
Any tourist shops on the tours?
We do arrange one or two shops which are legal by the national travel organization on the tour per day. Chinese tourist shops have a very bad name on the internet. Actually the things are not so bad as it is. The shopping stops are nice places for you to relax and at the same time to make use of the short time to familiarize yourself with the local products. The shopping is not compulsory.(If you aren't willing to shop)
To whom should I complain if I have received very bad service?
You can complain to the manager of Xi'an Bear Tower Brounch of CITS atEmail:inquire@chinauniquetour.com If you feel your case is very serious, you are suggested to complain to our local tourism bureau at Beijing Tourism Complaint.
How to reserve the tours?
1. Please use our online booking or send your travel request via email to Email:inquire@chinauniquetour.com. You are also welcome to call us at + 86 029 87238990 Phone after working hours: 0086 13488197185 or 13709240821 (24 hours).
2. Our real trip advisors will have contact you either by email or telephone. We offer one to one real person contac. When your booking is confirmed, you will get a confirmation email which includes the confirmed detailed itinerary with prices.
3. Way of Payment: cash payment, credit card payment or wire transfer. Both RMB and hard currency are acceptable.